Your Friendly Swimming Pool Cleaners
Did you install a pool and didn't realise the amount of work required to keep it crystal clear? Is your swimming pool adopting a greenish-murk that repels residents or visitors from diving in? Are you unsure of how many chemicals you should add to ward off bacteria build-up? Have you ever sat at the edge of the pool, watching your robot pool cleaner miss obvious debris, and get tangled in its own chord?
If so, how does getting a professional in to keep your pool crystal fresh at an affordable price sound?
CGS Facilities Management is your professional commercial pool cleaning service, with a team of on-call pool cleaners with the experience and equipment to see what your pool needs, and make it happen. We specialise in maintenance of commercial and communal pools across Sydney and the Central Coast.
Not only do we clean pools, but we also provide a comprehensive facility management service for communal and commercial buildings and areas, helping keep the pool crystal clear, the lawn nice and lush, trash removed, and the trees healthy and beautifully maintained.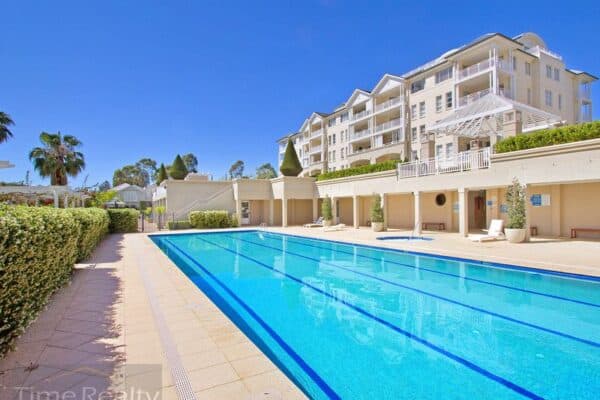 Keep your pool swimming ready with our pool cleaning services
If you have a pool, then you might've learnt that pool maintenance is not straight forward. What is needed to keep one pool clean and inviting is not the same as what's needed for another. From sun exposure to foliage dropping from overhead trees, to the amount of use is sees – each pool needs a tailored cleaning solution.
We'll assess the pool and help with every aspect of pool maintenance. We'll keep the PH balance at perfect levels, supply you with all the pool equipment needed for self-maintenance, and provide regular maintenance services.
Book your pool cleaning service with our Sydney team today
Would you like the ease of mind by scheduling regular maintenance by expert pool cleaners? Would you perhaps like to book a single check-up, to make sure your pool is clean, or learn why it is not? Would you like to have our cleaners set you up with the right equipment to self-maintain your commercial or communal pool like a pro? No matter your needs, no matter your pool, we'll help you get swim-ready in no time. Call us today at our Sydney office on our 24/7 line 02 8061 8100 or fill in our online enquiry form to tell us about the job you need doing.